It was in the year 2001 when Teacher Jean Dumago-Descallar had a simple dream... a dream of sharing her God-given talents for the well-being of others especially the children. It was a starry, starry night when she was inspired to think of the name of the school she enthusiastically wants to put up in Langka Street in Project 2 & 3, Quezon City. Thus, the name STARLAND KIDDIE SCHOOL flashed vividly in her mind.
In the logo there are eight (8) stars which represent the eight (8) letters of the word STARLAND. This signifies Teacher Jean's hope for the school to produce pupils who are:
S - Smart 

A Starland learner is intelligent, inquisitive and eager to learn.
T - Talented 

A Starland learner nurtures his/her innate talents and welcomes opportunities for growth and excellence.
A - Articulate 

A Starland learner is empowered and expresses his/her beliefs and feelings in order to improve his/her communication skills and be effective members of the community.
R - Respectful, Resilient, Responsible

A Starland learner knows the value of self-respect, as well as respect for his/her classmates, siblings, parents, elders, leaders of the community, and all living things in general.

A Starland learner is trained to rise above every circumstance and finds the positive in each situation.

A Starland learner is accountable for his/her thoughts, words and deeds and delivers that which is expected of him/her at the soonest possible time.
L - Love of God

A Starland learner radiates love and compassion inside and outside of school.
A - Altruistic 

A Starland learner is selfless and eager to help anyone.
N - Nationalistic 

A Starland learner knows that he/she is a vital part of a greater whole and strives to become a valuable addition to the community and the country.
D - Dynamic 

A Starland learner is open to new ideas, is versatile and thrives in the modern world.
The crescent, with its glowing and increasingly bright light, represents the enthusiasm and passion the school was founded on. The silhouette of two (2) children depicts both levels of the Basic Education Programs (Preschool and Grade School) that SKS offered.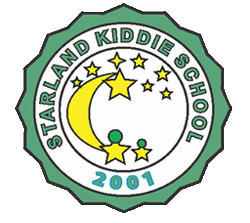 In 2005, with the addition of two branches, Cubao and Caloocan, SKS became Starland Academy, Inc. (SAI). The silhouette of a third child was added in 2006 to symbolize the first to fourth year levels in the Secondary Course that the school had begun to offer.
In that same academic year, Chinese, Koreans and Arab nationals were accepted into the SAI, and that is how what we all know today as Starland International School (SIS) came to be. The artistic talent of Rodin Calusa, had assisted the school in drafting its new face logo having been a former graphic artist, web designer, project proposal writer to international companies such as Arab Land Group and Arab Star Company in Baghdad Iraq. Rodin wholeheartedly shared his God-given talent and thus created the SIS logo.